1970s
Born in Newport News, VA in 1955.
Rabbi Dovid Shawel received rabbinical degrees from the Ner Israel Rabbinical College in Baltimore, Talmudic University of Florida and also attended the Telshe Yeshiva in Cleveland. He earned an M.A.- Ed (Barry University, Miami). He came to Talmudic University during its inaugural year, after Pesach 1975.
He has been an active mohel performing Bris ceremonies since 1977. This has taken him throughout the country, having performed brisim in Israel and twenty U.S. states.
In Rabbi Shawel's words:
"The environment the Rosh Hayeshiva and the Rebbitzen created felt like home. Our Rebbe nurtured and exposed us to a world of Torah and Yiddishkeit we knew few were privy to. Through the inspiration of the Rosh Hayeshiva, I was able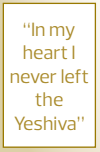 to fulfill my dream of returning to the south to teach Torah and perform milah. Rabbi Shawel has been the Director of Supervision of the Vaad Hakashrus of Dallas for the past 24 years. Personally, I was influenced the most by how I saw him interact with people, not just his Talmidim. His respect, care and love of everyone was a daily shiur onto itself. All my days, weeks, months and years have been touched in some way by the Rosh Hayeshiva. And now, my eldest son, Akiva, his wife Rachelle and their four children have found their place of Torah with Rebbe and in the Yeshiva in Miami Beach."
1990s
Rabbi Isaac Entin, currently the Menahel of Torah Academy of Greater Philadelphia, was the founding Principal of Torah Day School of Virginia as well as Principal of Phoenix Hebrew Academy.
Rabbi Entin holds a Master Degree in Educational Leadership
and Administration from Barry University and Smicha from HaRav Yochanan Zweig. He is a graduate of Harvard University's Principals Institute as well as Bar Ilan University's Principal's Program. He has pioneered innovative programs and is an active lecturer to parent groups as well as fellow educators, presenting for Torah Umesorah's National Convention, the Consortium of Jewish Day Schools and CAJE.
Rabbi Entin says that the impact of the Talmudic University and the Rosh HaYehsiva has been immense.
"I grew up in Miami Beach in the Yeshiva itself. My earliest memories are of davening in the Yeshiva, learning in the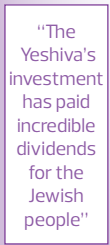 Yeshiva and more than a little bit of playing around in the Yeshiva. The Yeshiva invested in me and my peers and made a makom Torah for the community, children included. That investments paid incredible dividends over 40 years.The Rosh HaYeshiva has been an integral part of my life since my bris milah. He taught me how to learn with hasmadah, think through a problem, and how to become involved with
the broader community, which I have done over the last 20 years."